Title:
In the Stars (I Will Rewrite Our Destiny)
Author:
heeroluva
Fandom:
Star Trek XI
Pairings:
Mirror!Spock/Kirk, McCoy/Kirk
Rating:
NC-17
Word count:
15048
Contains:
Mirror!Verse (stuff that's talked about but doesn't actually take place… oc character deaths, slavery, and general noncon stuff), polyamory, BDSM, impact play (caning and strapping), sex toys, slight asphyxiation, short watersports fantasy, nipple play, dirty talk, rimming, biting, scratching, rough sex, mention of enemas, voyeurism, exhibitionism
Disclaimer:
I don't own them. I just like to play with them.
Summary:
Mirror!verse and Reboot!verse are both BDSM universes, but have very different takes on it. When Mirror!Spock finds himself stranded in an alternate universe, he's shocked by the dissimilarity. In Kirk, can Spock to find the relationship he's always wanted but could never have in his own universe? What will this do to the relationship between Kirk and McCoy?
Notes:
Written in response to
birddi
's art for
trekreversebang
. Many thanks to
meteorfire
and
jademac2442
for the awesome (and last minute) beta jobs. You're both amazing! Also many thanks to everyone that I've annoyed throughout this process (
karmic_fic
,
teleens_journal
,
whiteraven1606
,
emmypenny
,
akuchan_47
,
nightshadow_t2
). If I annoyed you, but didn't list you, let me know, and I'll add you. ;) Also for a
kink_bingo
square: bites/bruises. All mistakes are mine. Feel free to let me know if you see any. As always feedback is appreciated.
All of the ART in the fic is by
birddi
.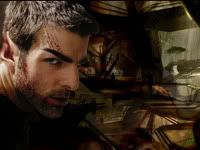 Part 1
|
Part 2